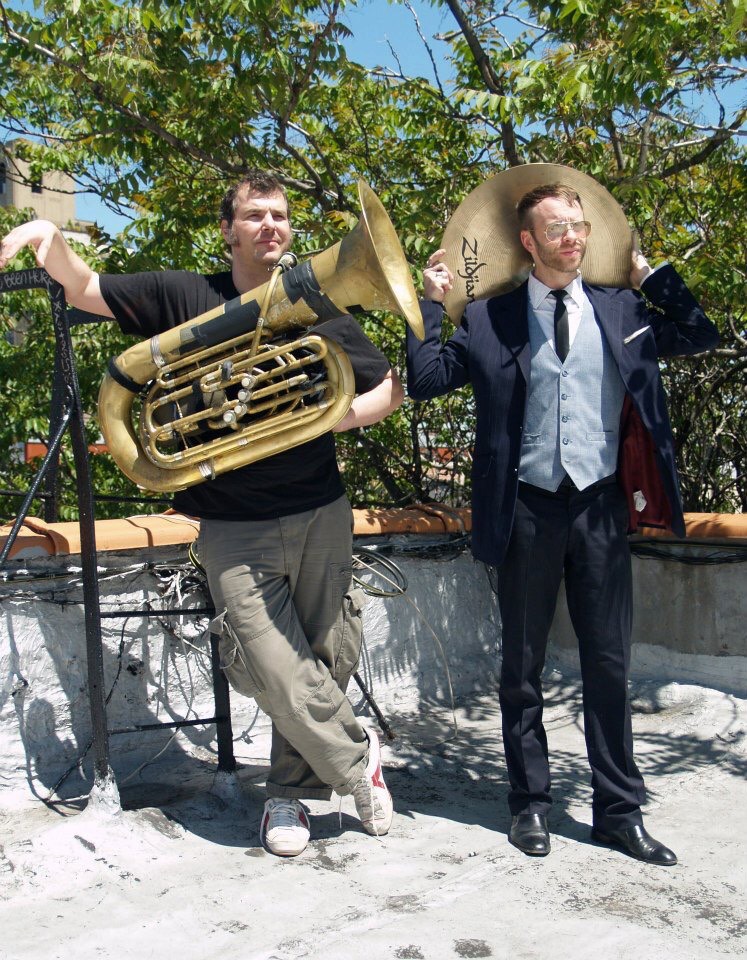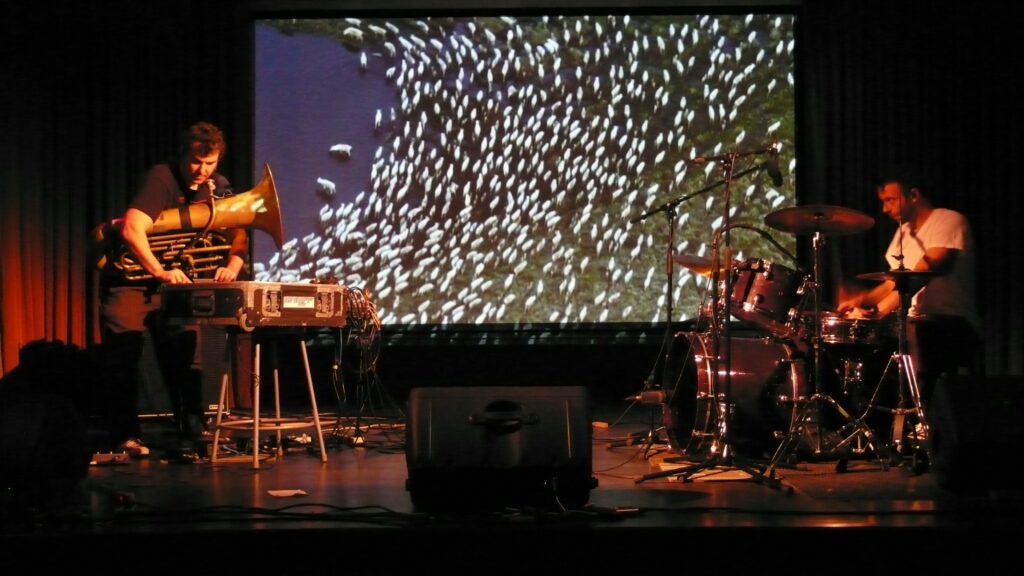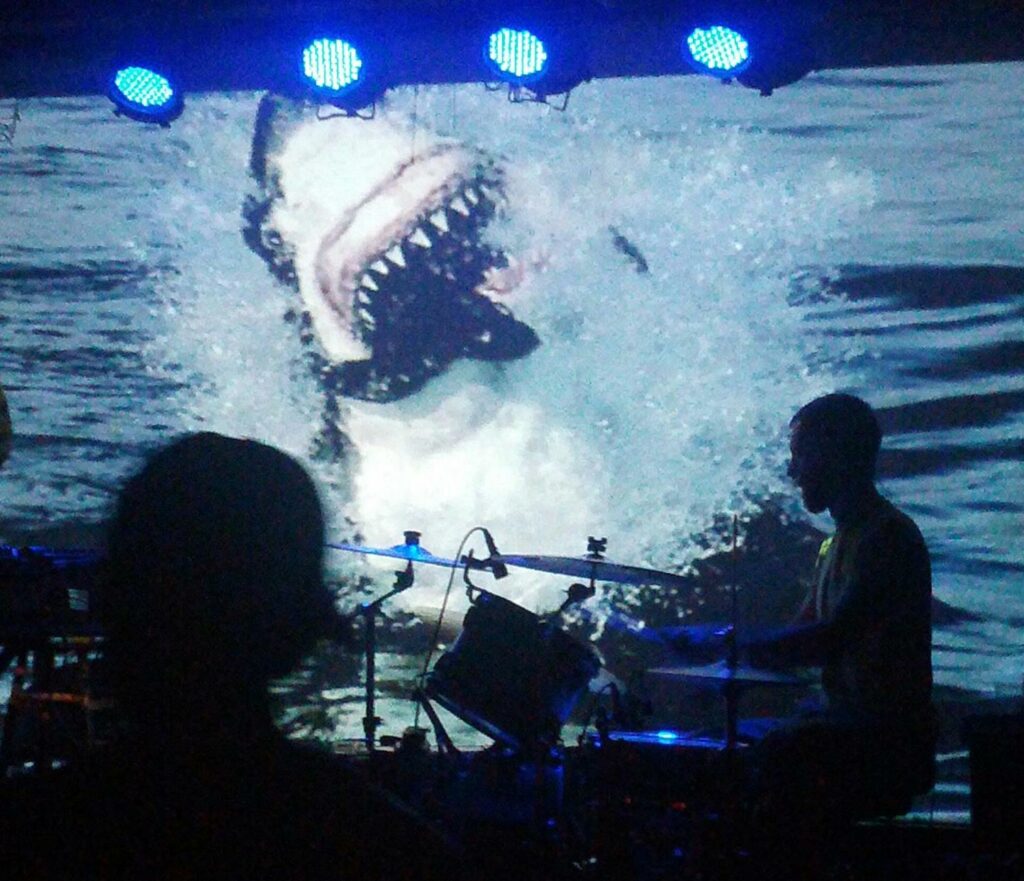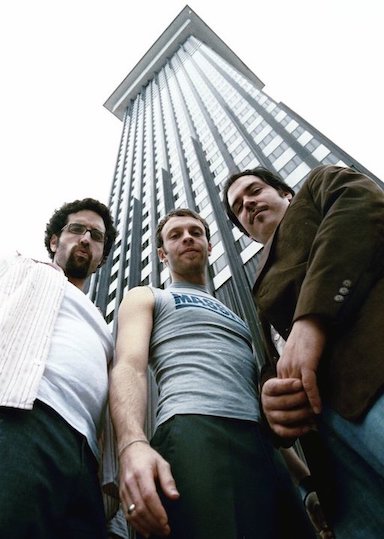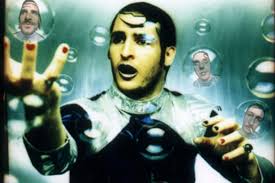 Music: stage, studio and tour
30 years of drumming has found Steve Garofano in musical settings from New Orleans street parades to symphony halls to the electronic underground, from the stage to the studio to tours abroad. The thread that unites this wide body of work is the pursuit of bone-deep rhythm. "Groove" is a slippery concept, but when it's right, it's powerful. This power is what drives Garofano to continue seeking connection amongst humans through rhythm.
Brian Wolff, the world's foremost male post-rock electro-tubist, invited Garofano to accompany him in 2008. Wolff uses live-looping and effects to capture and bend the unique, powerful sound of his tuba. With Garofano providing percussive support, the duo held a 5-year residency at noted New York City music venue Pianos, playing extensively throughout Manhattan and Brooklyn, and appearing in the pages of The New Yorker, The Village Voice, Time Out New York and the New York Post. In taking the show on the road through Europe, Mexico and the US, the duo found no shortage of surprised and excited ears.
Garofano recorded 4 studio albums with Wolff & Tuba, working with noted New Orleans recording engineer Andrew "Goat" Gilchrist and Grammy-nominated producer Paul Mahajan.
Among their endeavors, Garofano and Wolff collaborated to deliver the semi-mockumentary YouTube series "Tuba TV: In Search of the World's Smallest Musical Niche". In the series, Garofano interviews Wolff as he seeks to explain the life of a musician whose niche is so narrow, he may be his only fan.
Triple Delight
In 2004, Garofano co-founded what anthropologists believe to be the first New Orleans band to bring a computer onstage. Triple Delight featured David Hyman on guitar/programming, Lucas Davenport on keys/vox/programming and Garofano on drums/programming for performances that involved live-looping and an interplay between live and digital elements. Using software such as Ableton Live, Triple Delight brought modern electronic capabilities to New Orleans' hot-blooded live music scene.
The band's live shows earned it steady work in New Orleans' Frenchmen St. corridor and a live recording, made at the Dragon's Den, was well-received. Following Hurricane Katrina, the band retreated to the studio for two years to emerge with an album totally unique in the New Orleans music landscape.
Other Projects
VIC THRILL is a brightly-colored electro-impresario well-known in Brooklyn art-punk circles for his energy and a big voice matched only by the size of his heart. In 2008, Garofano joined him and his Circus of Enlightenment for a wild arrival at Austin's South by SouthWest followed by steady NYC performances, including the legendary Rubulad happenings in Williamsburg, Brooklyn. Mr. Thrill and Garofano continue to collaborate, including "Choices", a track on the newly released record "Hollywood Hula Bard". victhrill.com
NEW MOODS was formed by Billy Jones and Sean Maffucci on New York's Lower East Side in the late aughts. Supported by Melati Melay and Garofano, the band had a brief but successful run including stops at South by SouthWest, Pianos NYC and The Music Hall of Williamsburg.
ONE MAN MACHINE is the solo project of Bernard Pearce, New Orleans vox/trumpet/bass looper and noise bender. Garofano joined Pearce when the two were evacuated for Hurricane Katrina, playing emotionally intense shows in New York City, from the intimacy of the Lucky Cat in Williamsburg to the vastness of the Cipriani Ballroom for the Lower Manhattan Cultural Council. The pair continued their evacuation with performances at the Pop Montreal festival, before returning to Louisiana to rebuild.
THE ASYLUM CHORUS is a vocal ensemble founded by New Orleanian stalwarts Amy Trail and Lucas Davenport. Featuring 8 talented vocalists performing as a choir, the group presents music from Southern gospel-style hymns to modern choral rock music. Garofano enjoyed a year in their drum chair, including Easter Sunday at New Orleans' renowned Preservation Hall, witnessing the power of 8 harmonized voices to elicit deep emotion in anyone within earshot.