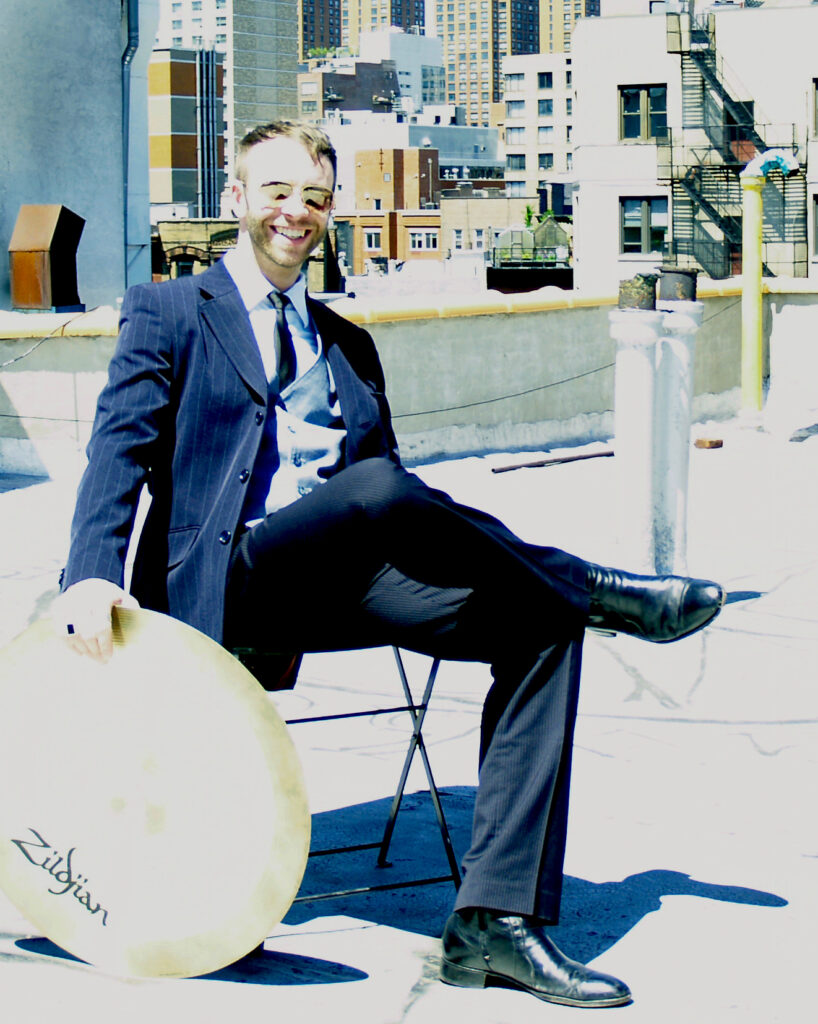 Bio
Steve Garofano is a musician and neuroscience researcher, dividing his time between New Orleans and Berlin. He studied Social Psychology at Tulane University in New Orleans and Cognitive Neuroscience at the Berlin School of Mind and Brain of Humboldt Universität. His neuroscience research investigates the brain's mechanisms for the perception and production of musical rhythm.
Garofano has worked for over 20 years as a professional drummer, in a variety of genres, in New Orleans, New York City and abroad, finding his niche in live-electronic music. In traveling as a musician, he has seen the power of rhythm to connect humans across cultural and geographic lines. He continues to create and explore at the intersection of art, science and technology.
CV
Education
Humboldt Universität, Berlin School of Mind and Brain, Berlin (Germany)
Master of Science: Cognitive Neuroscience – 2017-2019
Honors: Master's Award, Einstein Doctoral Program
Tulane University, Tulane College, New Orleans (USA)
Bachelor of Arts: Psychology (major), Sociology (minor) – 1996-2000
Honors: Magna cum Laude, Phi Beta Kappa, A. Hartman Award
Research
Brains on the Beat: Drumming Precision and Neural Entrainment to Musical Polyrhythm (2019)
Masters thesis in Cognitive Neuroscience In collaboration with Neurophysics Lab at Charité Universitätsmedizin Berlin, under the supervision of Drs. Gabriel Curio and Gunnar Waterstraat, conducted an EEG study investigating entrainment, the process by which cells in the brain synchronize their firing to external stimuli, allowing for the comprehension of musical rhythm.
Embodied Music Cognition and the Mediating Role of Technology (2019)
Research and writing for Neuroscience Beyond the Brain: From Embodiment to Virtual Reality studies
The Space Between Your Ears: Auditory Spatial Perception and Virtual Reality (2019)
Research and writing for Spatial Navigation: From Grid Cells to Virtual Reality and Back studies
Minds Connected in Song: Music Performance as a Setting for EEG Hyperscanning (2019)
Research and writing for Interpersonal Perception studies
The Beat in Our Brains: The Neuroscience of Musical Rhythm (2018)
Research and writing for Neuroscience of Music studies
Violent Video Games and Perception of Hostile Intent (2000)
Honors thesis in Psychology
Conceived and conducted a laboratory study investigating the effect of violent video games on attributions of hostile intent. The study received the A. Hartman departmental award for excellence.
Assistant to Dr. Frederick Koenig (1997-1998)
Tulane Sociology Department
Conducted archival research, data collection, and analysis regarding brain lateralization and phonetic symbolism.
Convenings
CTM Festival (Berlin, Germany, 2020)
Presenter and speaker: "Entrainment: In the Space Between Perception & Action", presented for the CTM festival's Research Networking Day. CTM is a prominent international festival dedicated to experimental electronic music and other sonic art forms.
INSIGHT (Berlin, Germany, 2019)
International conference focused on integrating science and practice of psychedelic states, organized by the MIND Foundation (attendee).
Interacting with Body, Electronics and Space (Berlin, Germany, 2019)
Symposium exploring music interaction, perception and embodiment, organized by the Staatliches Institut für Musikforschung and the Audiocommunication Group TU Berlin (attendee).
Kosmos Workshop (Berlin, Germany, 2018)
Symposium on mind wandering and visual mental imagery in music, organized by Humboldt Universität's Institute of Musicology and Media Studies and the Future Concept initiative (attendee).
Dharma Ocean Retreat (Crestone, CO, USA, 2017)
Summit of artists and leaders from arts philanthropy led by the Hemera Foundation to explore the application of mindfulness practice in support of work for social justice (invited guest and participant).
TPAM (Tokyo Performing Arts Market) (Yokohama, Japan, 2017)
International performing arts festival exploring connections between traditional and contemporary art and culture in Japan (attendee).
Kyoto Experiment (Kyoto, Japan, 2016)
International visual and performing arts festival, with particular focus on experimental art forms, new technologies and controversial work that challenges cultural norms (attendee).
Arts in a Changing America: REMAP (Detroit, MI, USA, 2016)
Regional symposium exploring the impact of racial justice, displacement and rapidly changing demographics in the American arts sector (attendee and workshop participant).
Cena Contemporânea (Brasilia, Brazil 2016)
Participant in international performing arts festival and symposium on cultural policy, government support for the arts and cultural exchange in Brazil and abroad (attendee).  
Music Performance + Composition
General (1990-present)
Nearly 30 years of experience as a percussionist in a wide range of styles, specializing in live drum performance in electronic musics. Significant studio experience involving performance, composition, engineering and production. Extensive stage experience performing live in venues sized from 50 to 5,000 seats across North America and Europe.
Provided percussion instruction in settings from full marching band drum lines to individual private students.
Continued application of technology to the creation, production, and performance of music and other art forms.
Private study in percussion with master drummers Johnny Vidacovich (Jazz /Funk; New Orleans) and Kaoru Watanabe (Japanese Taiko; NYC)
Wolff & Tuba, New York City (2008-2013)
5-year residency at noted New York City music venue, Pianos. Extensive performance throughout Manhattan and Brooklyn.
Touring performances in major European cities and Mexico, other prominent US venues such as the Fox theater (Atlanta), Great American Ballroom (SF) and the Music Hall of Williamsburg (Brooklyn).
4 studio albums recorded with noted New Orleans recordist Andrew "Goat" Gilchrist (Ani DiFranco, Maceo Parker), NYC engineer/producers Paul Mahajan (Yeah Yeah Yeahs, TV on the Radio) and Mark Ephraim (Dirty on Purpose, Neko Case).
"Drowning" music video created in Marseilles, France with video production house L'Improbable.
Self-produced YouTube rock/mockumentary series "Tuba TV: In Search of the World's Smallest Musical Niche" (80,000+ views to-date).
Triple Delight, New Orleans (2003-2008)
Co-founder, composer, performer and producer in one of New Orleans' first live+electronic music ensembles.
Developed original live looping techniques as well as live integration of acoustic and computer-based instruments via Ableton Live.
Notable recordings and frequent performances received attention for the use of digital technology in adapting New Orleans' improvisational styles to electronic music settings.
Live gallery performance at Prospect. 1, New Orleans International Art Triennial, curated by Dan Cameron. December 2008.
Other Ensembles, New York City, New Orleans, Berlin (2000-present)
Performances at festivals including Pop Montreal (Canada), Cumbre Tajín (Veracruz, Mexico), Mikulov Music Fest (Czech Republic). New York City cultural institutions such as the 92nd St. Y, Cipriani Ballroom (for the Lower Manhattan Cultural Council), and Rubulad avant garde art parties in Brooklyn.
Live performance and recording with electronic-oriented ensembles One Man Machine, Vic Thrill, New Moods, and DJ Baby Blu.
Live performance and recording with traditional music ensembles such as the New Orleans 9th Ward Marching Band, The Asylum Chorus and Gal Holiday and the Honky Tonk Revue.
Live performance with CrashBoomBand, a New Orleans-style brass band based in Berlin, Germany.
Music Technology
15 years of experience with music technology platforms and their integration into live performance settings (2002-present).
Particular experience in the syncing of multiple digital platforms (computer-based software, multiple computers, hardware devices, etc.) for real-time performance, playback, and recording.
Fluent with digital music workstations: Ableton Live, ProTools, Logic, Reason and Reaktor as well as iOS platforms.
Thorough experience in recording studio production systems and techniques ranging from multi-track overdubbing, click-based vs. live tracking, mixdown techniques from large-format console/outboard mixing to computer-based mixing.
Specific experience in studio mix and mastering situations, particularly the blending and integrating of digital/analogue sound and the preservation of fidelity in the digital environment.
Unique skillset for the operation of digital music platforms, such as Ableton Live and outboard devices while simultaneously performing live on acoustic drums.
Honors + Awards
Humboldt Universität
Master Award and stipend, awarded by the Einstein Doctoral Program, 2019
Tulane University
Distinguished Scholar's Award, academic merit scholarship, 1996-2000
Tulane Honors Program, 8 semesters
Dean's List, 6 semesters
Hartman Award in Psychology, departmental award for excellence in psychological research
Magna Cum Laude graduate
Phi Beta Kappa member